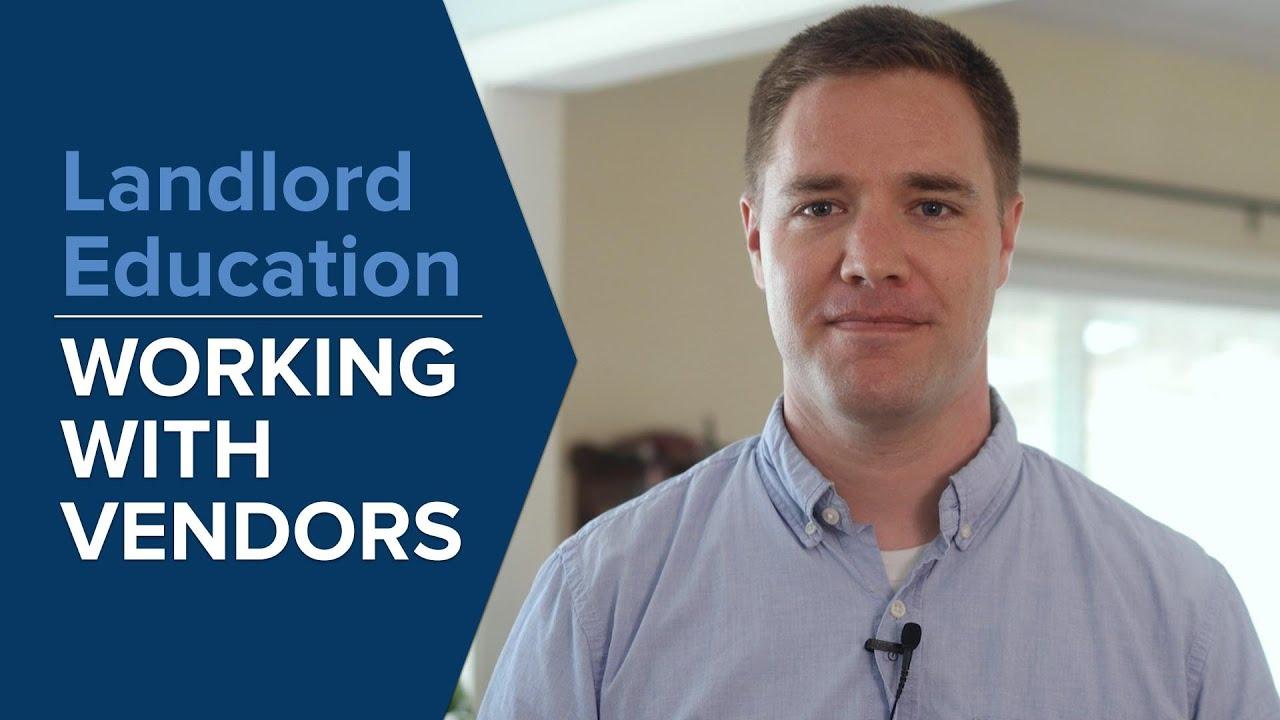 When clicked, this video is loaded from YouTube servers. See our
Privacy Policy
for details.
Working with Vendors
If you manage your own rental property, you know what it's like to deal with maintenance and vendors. Working with vendors can sometimes be a painful process and we want to help educate landlords and owners so that problems can be avoided. Our 6 suggestions below will help you develop better relationships, get better deals, and keep tenants longer. If you have questions about your specific situation or job, please reach out to us so we can help.
1. Vendors Should Be Licensed & Insured
If you're managing your own rental, it will be very easy to think of maintenance more casually. Sometimes that works out and there aren't issues. However, when issues do arise, all that work that you did personally or hired out to an unlicensed or uninsured vendor could end up being a big problem. If something goes wrong on the job, vendors that are licensed know how to handle it. Also, if they're insured, they would be responsible for covering the cost as well. Accidents are never meant to happen, but they're a fact of life. Vendors that are licensed and insured will also be more likely to keep records, give invoices, and provide warranties on parts and/or labor.
It's true that hiring a licensed and insured vendor will likely cost more money at the time of service, but the quality and safety of their work can save you hundreds or even thousands of dollars over the years. We work with many vendors in San Diego and are familiar with their services and pricing. If you are looking for a dependable licensed and insured vendor, please give us a call.
2. Establish Clear Expectations
Make sure you tell the vendor exactly what the job will entail. If you or the vendor is vague in any way, the job could end up not being fully completed or the vendor could do much more than was expected. Even when directions are crystal clear, there can be mistakes made, so following up is usually a good idea. Try to avoid job descriptions like "fix the faucet" and "fix the AC". Those descriptions can be interpreted in many ways depending on the vendor.
These expectations should also include the cost of the project. Some vendors will have a set price list that they can work from. If that's the case, they should know fairly accurately what the job will end up costing. However, if they charge for time and materials, the cost could add up quickly. Even if the vendor can't provide a solid bid for the job, they usually can give a rough estimate to give you an idea of what the costs will be. Make sure you give them a clear limit for approval and explain that they are only approved up to that limit. Explain to the vendor that if they go over the given limit and fail to obtain approval from you, you will only pay as much as the limit given. Vendors should always contact you for direction and approval before diving too deep into a project.
3. Keep a Written Record
This point relates to almost all the others on this page. Make sure you communicate clearly. Often, that means you should use email or text to communicate job details with the vendor. You should also double check and make sure vendors receive all communication. Some vendors prefer email, while others prefer text. You don't want to send an important email to a dormant address only to find out later that it was never received. If the vendor doesn't use email or texting, try to write everything down on a physical paper somewhere and make a copy to keep for your records. As long as you can always point to a written record (email, text, paper) with details, you should be safe. Your written records should include job details, the cost, the maintenance limit, plans for payment, when the job is scheduled, and any guarantees or warranties they have.
Keep in mind, if you do talk with the vendor on the phone or in person, make sure you follow up that conversation with something in writing (an email or text) to confirm and solidify what was discussed.
4. For Big Projects, Get Bids
If you have a big project coming up, it's usually a good idea and time to gather a few bids and compare services and prices. Vendors will sometimes adjust their prices over time and for bigger projects, it's a great time to re-evaluate prices. If you do end up getting bids, make sure you are comparing apples to apples. If you aren't careful, you could find yourself comparing 1 vendor's premium service with another vendor's basic service. Some vendors will be very good about giving you options to repair or replace, while another vendor might only specialize in replacing and not repairs.
Make sure you also understand what is NOT included in the bid. When using a plumber, they can cut open your wall or ceiling and fix that leak, but their bid will not include repairing the wall after the work is done. Similarly, one painter might include paint in the bid, but another painter's bid will come in cheaper, but will not include paint. Like in the 3rd suggestion, make sure you always, always have a bid or estimate in writing.
5. Inspect the Work After Completion
You will want to check the work afterwards and confirm its completion before paying the vendor. Compare the work to the job description provided and check the functionality of everything. Just because something looks good, doesn't mean it will work well. If you have a ceiling fan replaced by a handyman, make sure you test the fan at all speeds for longer periods to make sure it is properly balanced and doesn't start to wobble. Make sure the lights work on it and the switch or remote are connected properly. When replacing a toilet, flush it multiple times, sit down on it and move around to ensure it won't wobble, and check for leaks at the supply line and base. Ensure the work was done according to the expectations set and that you are 100% satisfied with the work. If there are any issues, you can talk with the vendor about fixing them before you pay.
6. Arrange for Quick Payment
Make sure you can pay vendors the way they need and at the proper time. If you have found a good vendor, you need to treat them well or else they won't do any jobs for you in the future. If you withhold payment longer than what was agreed, you could be burning bridges with them. Most licensed and insured vendors don't deal in cash, so you will likely need to use a credit card or a personal check to pay. You also need to make sure you get an invoice or receipt for the work completed. This invoice should have the details about the job done and also information about any warranties or guarantees for the materials, parts, or labor. Keep this invoice or receipt for your records and make sure you can access it later if needed.
Ask Jensen Properties
We work with vendors every day and have worked to build strong relationships with many of them. If you have questions about using vendors (especially San Diego vendors) at your property, please contact us and we will be happy to help. As a leading San Diego property manager, Jensen Properties works hard to educate all property owners. We are always available to assist you in your property management journey. If you are looking for a San Diego property management company, feel free to learn more about our Services & Pricing and contact us anytime. Make sure you keep up your Landlord Education by following Jensen Properties on Facebook, Instagram, or YouTube.