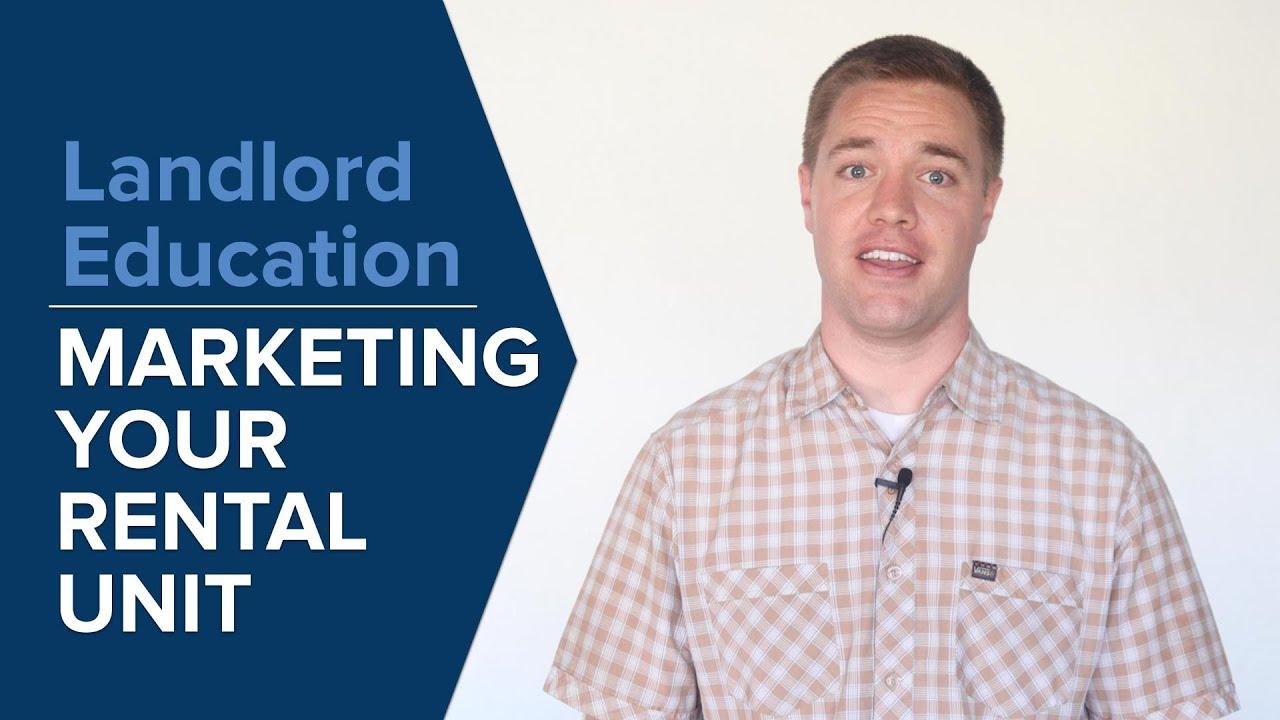 When clicked, this video is loaded from YouTube servers. See our
Privacy Policy
for details.
How to Market Your Rental Unit
With so many rental units on the market, it's hard to compete and make sure your unit gets the attention it deserves. Rental units are being advertised by property managers, real estate agents, owners, and even scammers. So the question is this, "How do I list and market my rental property so I can get qualified tenants to apply and lease with me?" While there's no one solution that fixes all the potential problems you could run into, we want to share some tips for how to market your unit online and effectively.
1. Write a Detailed & Attractive Description
You always want to make sure you have a good title for your listing. Start off your general description with information about bedrooms, bathrooms, utilities, lease terms, requirements to rent, and the availability date. Even if the website asks for some of this information, you want to make sure it makes it into the description as well since some people will only read the description. However, if the site gives you the option to put in specific information for your unit, do that as well. When you mention utilities, clearly outline what the tenant will be responsible for and what utilities will be included with the rent. Many renters want to know if they can sign a month-to-month agreement or if they have to sign a 12 month lease right away. Some renters even prefer longer lease terms.
Don't forget to highlight all the amenities that the tenants will be able to enjoy. Common amenities might include garage parking, balconies, stainless steel appliances, tile floors, granite or quartz countertops, pools and spas, gym access, fenced yard, BBQ area, smart home features, extra storage, large windows, or a great view. This includes any HOA or common area amenities if applicable.
2. Take High Quality Photos
For tenants, pictures can often either seal the deal or be a deal breaker. And listings with zero photos often don't get any attention at all. Make sure you use your best camera, with the best lighting and widest angle possible. You can use a tripod to keep the angle consistent too. Get as far back into the corners of each room to show as much of your property as possible. This will give the tenants a good idea of what things will look like. Turn on lights everywhere you can. We use a DSLR camera with an attached flash for most of our photos. If all you have is your smartphone, those can sometimes have great results. Just make sure you zoom out as far as possible and get the best angles of your rooms. Watermarking your photos with your number might not be a bad idea either.
3. Give Instructions for Showings & Applications
The main questions that tenants will ask are, "How can I view the property?" and "How do I apply?" Make sure both of those are clear on your listing so that there's no confusion. If you use a self-showing lock box system like us, make sure the marketing link is in your description. If you only can do in-person showings, put available times and instructions for contacting you. Showing the unit can often be the most difficult part about leasing a property, so be ready for a lot of calls and no-shows. Because of this, we use a self-showing lock box system that allows tenants to create a profile and view the unit within minutes. When they create a profile, they take a picture of their photo ID, take a selfie, and put in credit card information for a $0.99 one time charge. This validates that they are who they say they are and allows them to access the unit with a code for 1 hour.
Applications can sometimes be tricky, but make sure you gather information in the same way each time. Using an online application makes it quick and easy for many tenants looking for homes these days. We have had many tenants see a home, view it using our self-showing lock box, and then apply all within an hour or two. Making it easy for them will also make it easy for you.
4. List Your Property on as Many Sites as Possible
The more sites you can post your rental property on, the better. You might need to take a bit of time to post your vacancy on websites like Zillow, Trulia, HotPads, Apartments.com, Zumper and others. By having your unit on more sites, more prospective tenants will see them and potentially apply. With a couple clicks, we can list our rental properties on 40 different websites for prospective tenants to find. This makes it easy for us to list vacancies and update the listings when needed.
We also highly suggest posting vacancies to social media and sharing the information with local housing groups on Facebook. There are many housing groups in specific areas or cities that are dedicated to advertising or finding rental properties. One post on a facebook group could reach thousands of people.
5. Reduce the Price If There's No Interest
If you're finding that no one is interested in your unit, it could easily be due to the price. Of course, there could be other reasons, but if your unit has attractive landscaping, looks clean inside and out, and matches the pictures and description you wrote, you'll need to check the price. You might be above market rent. If a unit is priced higher than market value, there will often be zero action - not even requests for showings. If that's the case, don't be afraid to lower the rent a bit so that someone will move in sooner. You can always plan for a rent increase after the lease term is up. Sometimes it is actually more profitable for you to rent something out quickly at a lower price, rather than keeping the price high and waiting around for a desperate tenant.
Ask Jensen Properties
We can help you with your rental unit. If you're wondering how you should list your rental property, please let us know. We would love to talk over these things with you and suggest some ways to get more interest in your rental property. If you'd like to take advantage of a free rental analysis for your property, please click here. Of course, we offer lease only services where we can list, market, and show your unit. We also process applications and get a signed lease done. We also offer full property management service where all this plus much more is included. Make sure you keep up your Landlord Education by following Jensen Properties on Facebook, Instagram, or YouTube.