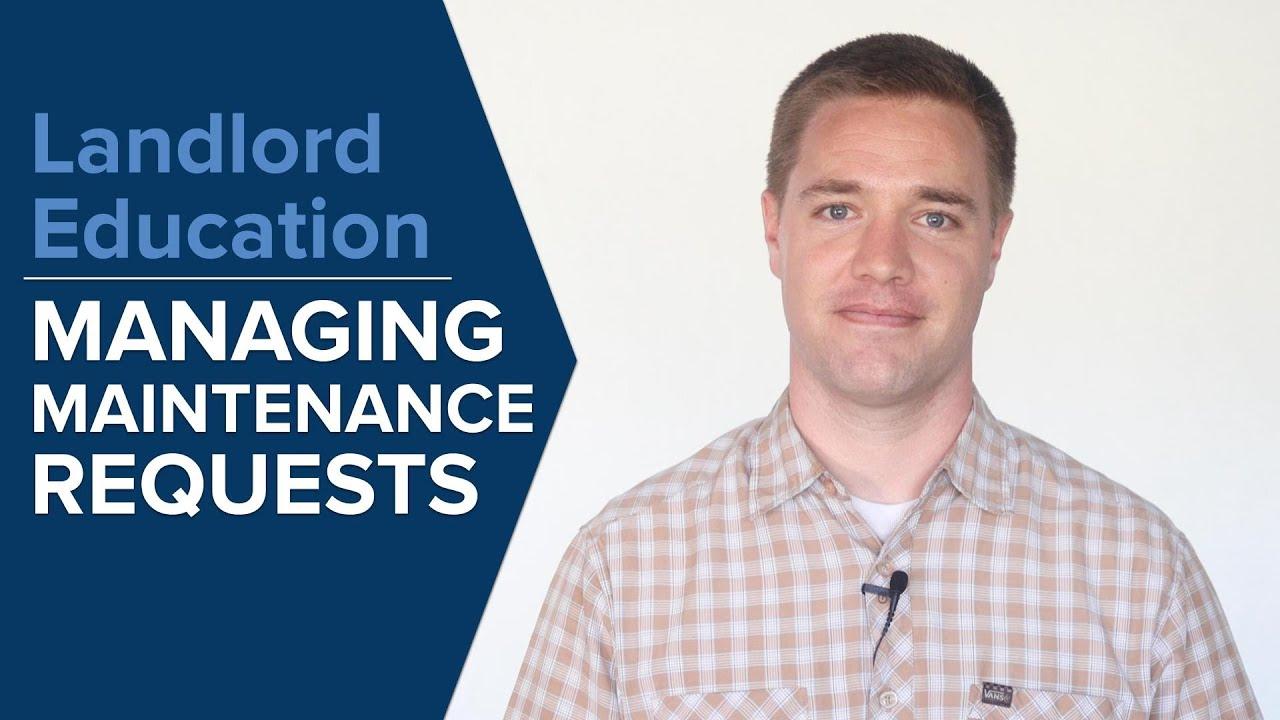 When clicked, this video is loaded from YouTube servers. See our
Privacy Policy
for details.
How to Manage Maintenance Requests
As a landlord, you'll need to know how to manage maintenance requests from tenants. This skill can be helpful if you are managing your own rental property or if you have a property manager working for you. If you can get maintenance requests processed and addressed quickly, tenants will be happier and likely want to stay in your rental property longer. That can mean less vacancy costs for you and a better investment overall. Even if you feel like you have maintenance under control, take a few short minutes to read through these suggestions so you can refine your own process. Here are a few tips to follow when handling your tenant's next maintenance request.
1. Understand the Maintenance Request
Make sure you fully understand the request. Often, tenants will send a request with only 2-3 words. Here are a few examples of some requests that we get almost on a daily basis:
"Garbage disposal"
"Kitchen light"
"Broken window"
"Leak in bathroom"
"Toilet"
We wish we were joking about some of these, but tenants really do submit maintenance requests with these exact words. You will need to make sure you follow up to get all the details. You'll need to find out the exact location, size of the leak, reason the window was broken, and what they've tried already. Requesting photos is a great way to pinpoint the issue and get the tenant to communicate clearly. If there are issues with an appliance, you might also ask for model numbers to expedite repairs. These additional details will help you determine the severity of the request and also who to send. If it's an emergency, make sure you get on it quickly.
2. Troubleshoot with the Tenant
Taking a few minutes to troubleshoot with the tenant can potentially save you (and them) hours of your time and hundreds of dollars. Tenants will often report things that should be their responsibility. They should be expected to change out light bulbs, batteries on thermostats, or an AC filter when needed. Don't miss the opportunity to educate your tenants about what is expected of them and what they're responsible for. Don't be afraid to ask the tenant questions for clarification and DO NOT assume the tenant already tried the "obvious" solutions. Every now and then a tenant might respond with "of course I tried that!", but more often you will find that they haven't tried much of anything. We've created some videos that give maintenance tips for tenants. We encourage you to send those to your tenants so they can know exactly how they can fix minor problems themselves. You will also want to make sure tenants understand when you won't be sending anyone for the issue at the moment.
Click here for Tenant Maintenance Tips videos
3. Find a Reliable Vendor
If you're not able to successfully troubleshoot the issue, that means you will need to call a professional. Make sure you choose a vendor that's licensed and insured. That will mean that if anything goes wrong on the job, the vendor will be able to make it right. You'll need to make sure that you clearly communicate what you need done and give the vendor a max maintenance limit for the cost of the job. Using the right vendor can actually be more difficult than it sounds. If you watch our Working with Vendors video, it outlines some of the things we suggest to keep in mind while working with vendors. Even if you've been managing your property for a long time, these suggestions will likely still be valuable.
Click here for the Working with Vendors video
4. Notify the Tenant
Don't forget to notify the tenant when there's an update. It's their home and they really appreciate being kept in the loop when possible. Normally we have vendors directly communicate with tenants to avoid any "middle-man" issues, but you will still need to contact your tenant periodically. Acknowledge their request when you receive it. Also, let them know when you contact a vendor and send out a work order to them. Sometimes if you are updating tenants, you will find that the maintenance issue has resolved itself and the tenant just forgot to let you know. If you're communicating regularly. You could avoid having to pay (or charge the tenant) for a service call when it was unnecessary. If you are stuck as the middle-man scheduling the appointment, make sure the tenant knows when the vendor is scheduled to come. Also, make sure the tenant knows that they'll get charged if they don't keep the appointment. If you have to serve a 24 hour notice of entry for your vendor, make sure you are communicating that in writing to your tenant. You also want to notify tenants when they could potentially be charged for something that they may have caused. This could include unclogging drains with things like food/hair/toys, repairing broken windows caused by the tenant, or service calls from vendors when they find no problems with the unit. This communication can often be tricky and time consuming, so let us know if you have any questions about this.
5. Verify Completion
Verify completion of the work with the tenant. Once the work has been done, check with the tenant to make sure it was done completely and everything is working properly. You can even ask the tenant for feedback on the vendor you sent out. This will show the tenant that you are still wanting to communicate with them and that you value them as a resident in your property. The tenant will also be the first person to know if anything goes wrong with the repairs made. Sometimes you might have a plumber visit your unit and cut out a section of your wall or ceiling to access a pipe or leak. Plumbers won't repair the wall, so they will leave it (hopefully clean) for you to take care of. Sometimes they won't tell you the status of the unit when they leave though. So checking in with the tenant soon after the repair will let you know what still needs attention and how things need to be handled moving forward.
6. Keep a Written Record
Keep a written record of everything you can. From start to finish, you want to keep a record of all communication and requests. Encourage tenants to submit all maintenance requests in writing - via email, text, or physical letter. When you communicate back with the tenant to troubleshoot or notify them, that should also be in writing - text or email. When you are gathering information and sending it to a vendor, make sure it's clearly written and includes all details and photos that are applicable. Make sure you get an invoice or receipt for the completed work as well. Even if you communicate in person or over the phone, you should write down what was discussed and follow it up with a text or email to reiterate and clarify what was said. At Jensen Properties, we keep very detailed notes of all communication and attach it to the tenant and work order so that nothing is mixed up or forgotten. These records will show that you took care of the maintenance request in the proper way and that you were never negligent and they might even serve as evidence if needed later on.
Ask Jensen Properties
We can help you with maintenance requests. If you're wondering how to handle maintenance requests that come in from tenants, please let us know. We would love to talk over these things with you and suggest some ways to streamline maintenance for your rental property. If you'd like to take advantage of a free rental analysis for your property, please click here. Of course, we offer lease only services where we can list, market, and show your unit. We also process applications and get a signed lease done. We also offer full property management service where we will handle all maintenance requests and coordinate all work needed for your San Diego rental property. Make sure you keep up your Landlord Education by following Jensen Properties on Facebook, Instagram, or YouTube.